As financial uncertainty for regional hospitals increases, fixed-price options are increasingly important.
Anesthesia billing is different from other types of medical billing. Additional conversion factors, time factors, modifiers, and more make it extremely complicated. While your current in-house or outsourced billers have optimized for other types of medical billing, the fact is, if you aren't using a specialist for anesthesia billing, you are likely missing out on revenue.
General billers simply lack the expertise and tools required to maximize hospital anesthesia revenue.
Regional hospitals are often challenged with the fact that their volume of anesthesia billing is too low to attract a specialist biller without exorbitant fees. However, utilizing an expert anesthesia biller will not only increase revenue but can ensure you're not making compliance mistakes – which is a frighteningly common occurrence when billing generalists try to handle anesthesia billing.
Want to learn more about how our billing services increase anesthesia department revenue?
Fixed-Price Billing Model
To address the need for anesthesia expertise and the low-volume pricing challenge, Fusion Anesthesia has developed a model for anesthesia revenue management with a low, fixed, per-case fee structure.
We offer a single, flat fee per case. No more additional overhead costs or percentages of revenues collected. Plus, we have bundled this with our anesthesia billing management and reporting services, so your hospital has the comprehensive resources it needs to maximize revenue.
We offer a billing model with a low, fixed, per-case fee structure.
While we think our fixed-price billing model makes our services more accessible to a whole class of regional hospitals, we've taken care to ensure that the core values of our traditional billing remain in place: rigorous quality control, useful insights, and fantastic service.
Comprehensive Reconciliation
Payers are regularly trying to renegotiate payment schedules. Every contract with every hospital is different. Their payment matrix is so complex that even the payers can't keep track of it. As a result, payers often pay a little more or a little less than the actual contracted amount. Most billing departments can't keep track either, so they just cash the checks that come in. Some are above the contracted amount; some are below. However, because of the high rate of medical inflation, overall collections are lower than the contracted amounts.
The only way to solve this issue is through a comprehensive, line-by-line reconciliation process. For many hospitals (and billing companies), it's an overwhelming logistical challenge to compare the contracted rate and the actual paid amount for every patient and procedure – but this process is essential to ensure you are maximizing revenue.
Fusion Anesthesia completes this tedious reconciliation process for you. By pairing our own proprietary software with a database that has the latest reimbursement rates for every contract, every service, and every hospital in our system, we are able to compare contracts to reality and kick back underpayments (sometimes over and over again) until they are paid in full.
We use advanced software, coupled with a database of reimbursement rates for every contract, service, and hospital, to complete a line-by-line comparison of contracted rates versus what was actually paid.
Clear Reporting & Analysis
Fusion Anesthesia also offers advanced reporting tools that integrate into your existing IT systems to provide insight into your hospital anesthesia department. We offer high-level dashboards that provide a comprehensive overview, but also the tools you need to drill down into the most granular details. Standard reports and analytics are built in automatically, and custom reports can be created as needed.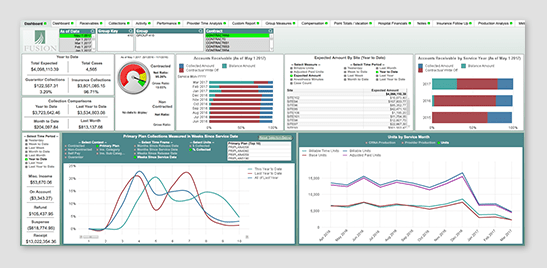 Standard reports include:
Month/month and year/year comparisons
An overview of the entire business or drill down into a single payer/provider
Compare statistics between payers and providers
Customized reports can include:
Reimbursement rates
Expected revenue flow for the next month
Collected vs. expected payments
Payer mix
Scheduling information
Operating room utilization rates
Provider comparisons
Additional Included Services
In addition to our main anesthesia billing and reporting services, our fixed-price model includes:
Contract review services
Compliance reporting
Transparent data sync
Consistency of cost and care analysis
Increase Your Hospital's Anesthesia Revenue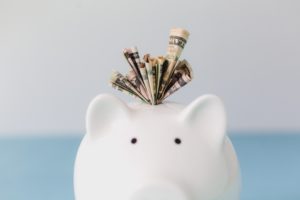 Fusion Anesthesia's fixed-price model is the perfect solution for regional hospitals looking to increase their hospital anesthesia revenue. Our expert team can ensure that you are meeting all compliance requirements and increase revenue just by making sure contracted rates are paid in full. What's more, our comprehensive reporting can provide the insights you need to further optimize anesthesia department performance.
Interested in learning more about our fixed-price model or want to discuss how this could impact your hospital's finances? Contact us.
Editor's Note: This article was originally published in November 2018 and was updated in October 2019 for accuracy.