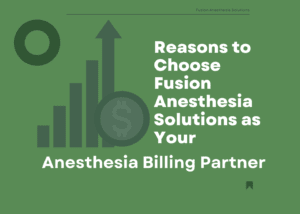 Whether you've made the decision to change anesthesia billing vendors or have decided to move from an in-house billing operation to outsourcing, a common question we heard from every client that chose us is: What Makes Fusion Different? Below are just a few of the reasons that set us apart from the rest:
We only bill for anesthesia: We aren't trying to be all things to all specialties; we are the experts in anesthesia billing. Anesthesia is a highly specialized and complex service and billing for anesthesia is equally complex. Staff must be trained to review a large number of documents to properly code an anesthesia service to capture maximum reimbursement. There are a number of modifiers available that must be properly used in billing as well as a deep understanding of the 13,000+ procedure codes affecting anesthesia services.
There is no "chain of command": When you partner with Fusion, that partnership is with every one of our employees. There is no 800 number to call if you have an issue; no opening a ticket to get a question answered and certainly no generic email to send inquiries. Every client has a highly trained and knowledgeable Client Experience representative that is available to answer any questions or solve any issues you may have.
We are a privately held company: Fusion has been in business for close to 50 years with the same owners. We don't have an "escalation process", our clients rarely have an issue but if there is a question all of our clients have direct access to our C-Suite. Decisions on any type of situation can be made instantly by our owners rather than having to get approval from the next level executive or Board.
We do what we say we will: In almost 50 years we have not had a single instance where we have not collected more revenue for our clients compared to their previous vendor. We accomplish this by following our tried-and-true processes to collect every dollar you are owed. Our system flags any payment received from a payor that does not match your expected rate, and most payers are subtlety underpaying claims.
We offer a boutique service with the technology and scalability of a large corporation: The ideal timeframe to onboard a new client is 90 days, however, there are sometimes extenuating circumstances that make that timeline impossible. We have the bench strength to accommodate all scenarios. We didn't build our business to accommodate the needs of today; we've implemented technology, processes and have the human capital to prepare for future growth.
We have never lost a client for performance reasons: For whatever reason, sometimes business relationships just don't work out, but we do everything we can to ensure that they do. We are proud to say that in our almost 50-year history, we have never lost a client because they weren't happy with our service.
If you're considering making a change, we encourage you to contact Fusion Anesthesia Solutions today to learn more about everything we put into creating a solid partnership.
Contact sales@fusionanesthesia.com to learn more.
By: Jeanette Mini